Wilderness Fish & Game is a full service hunting, fishing and outdoor sports store dedicated to making outdoor adventures more meaningful.
Shows Wilderness Fish & Game Sponsors
Listen to the latest interviews by clicking the logo.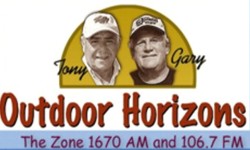 Like Us on Facebook
Find the lastest info on seminars and in-store specials.
---
WFG Staff

L-R Wally Banfi, Wayne Whitemarsh, Larry Wipperfurth
Wilderness Fish and Game staff are avid hunters and fishermen. Not only do you get advice on top name brands in guns, fishing equipment and outdoor sports, you'll get the local insiders view of hunting and fishing in the Wisconsin River Valley and beyond.
___________________________
The Tradition Continues
New Owner, Tom Lochner with Luna
Wilderness Fish and Game and Sauk Prairie Gunsmith are proud to annouce that the busi-ness started by Jerry and Elaine Lochner, has been sold to their grandson, Tom Lochner, to carry on and expand the business.
___________________________
Useful Web Links
Ace Sauk Prairie
Cayuse Shop
Sauk Prairie Chamber
DNR Licenses
Rivers Edge Cards, Crafts Collectibles
Rivers Edge Floral
Rivers Edge Mall
Roxbury Trap & Skeet Club
Sauk Prairie Trap & Skeet Club
---
Promotions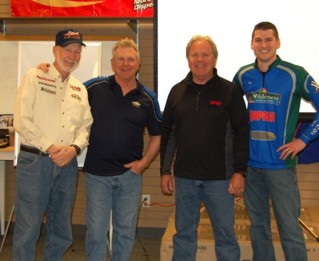 WF& G's 31st Annual Spring Fishing Expo Gary Roach, Joe Bucher, Mark Fisher, Tom Lochner
Thanks to all the great speakers, vendor volun-teers and customers for a hugely successful event. Like us on facebook to see more pictures.
_________________________
Seminars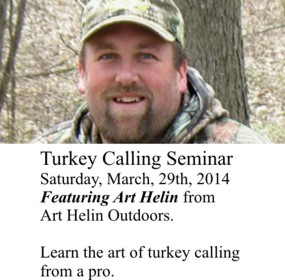 This is a great chance to learn the art of Turkey Calling or improve your skills. Art Helin will be in our store offering great tips and presenting the latest products for turkey hunters. For complete bio infor-mation on Art, go to: http://arthelinoutdoors.com/
______________________
In-House Gunsmith
Gary Brock, In-House Gunsmith Time to get your gun repaired after gun hunting season. Call now. (608) 370-8013
_______________________
Photo Courtesy Gary Engberg Gary Engberg, one of Southern Wisconsin's premiere outdoor enthusiast discusses weekly topics of interest. This week's topic is "Southern Wisconsin's Early Crappies" Read more on this topic by clicking on River Currents
We should be fishing the Wisconsin River for spring walleyes by now, but this unbelievable winter is going to push fishing back a few weeks unless we get some real warm weather. I will be writing some spring walleye stories soon, but I thought that I would give you an early spring crappie story to get you in the open water mood. I have caught crappies early in the spring many years when temper-atures are still in the 40s in quiet and mud bottom back bays off main lakes. But, this year may be a little different to say the least! Here is an early spring article to get you thinking about what we have ahead of us in spring fishing! Good fishing cannot t be too far away, I hope!
Photo courtesy of Gary Engberg
Southern Wisconsin is blessed with having numerous lakes of all sizes with good popula-tions of crappies and I am writing and talking about slab-size crappies, not the 8 inch ones that you can see through. Some of the better locations and waters are the Madison Chain of Lakes (Lake Mendota, Lake Monona, Lake Kegonsa, and Lake Waubesa) and a little farther north is Lake Wisconsin which has some of the best size crappies in the southern part of the state. Lake Wisconsin was formed when dams were constructed on the Wisconsin River for hydro-electric power at Wisconsin Dells and Prairie du Sac. The total acreage for Lake Wisconsin is almost 5,000 acres which has a constant flow and the lake's water supply is replenished every 4 days and big crappies.
Read more by clicking on River Currents.