Wilderness Fish & Game is a full service hunting, fishing and outdoor sports store dedicated to making outdoor adventures more meaningful.
______________________________
The Tradition Continues
Owner Tom Lochner & Luna
_______________________________
We Proudly Sponsor
Find the lastest info on seminars and in-store specials.
---
WFG Staff

L-R Wally Banfi, Wayne Whitemarsh, Larry Wipperfurth
Wilderness Fish and Game staff are avid hunters and fishermen. Not only do you get advice on top name brands in guns, fishing equipment and outdoor sports, you'll get the local insiders view of hunting and fishing in the Wisconsin River Valley and beyond.
___________________________
Useful Web Links
Ace Sauk Prairie
Cayuse Shop
Sauk Prairie Chamber
DNR Licenses
Rivers Edge Cards, Crafts Collectibles
Rivers Edge Floral
Rivers Edge Mall
Roxbury Trap & Skeet Club
Sauk Prairie Trap & Skeet Club
---
Promotions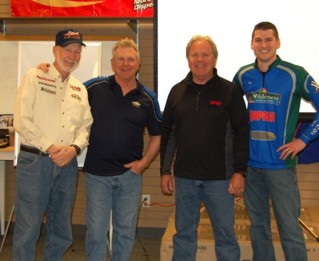 WF& G's 31st Annual Spring Fishing Expo Gary Roach, Joe Bucher, Mark Fisher, Tom Lochner
Thanks to all the great speakers, vendor volun-teers and customers for a hugely successful event. Like us on facebook to see more pictures.
_________________________
Seminars
Art Helin and Tom Lochner
Art Helin brought a solid seminar discussing the Top 10 Turkey Hunting Secrets to Wilderess Fish and Game, Saturday March 29th. A couple of secrets for you: 1. Use Scent Blockers(Helps avoid mistakes with deer). 2. Call from uphill ( Turkeys can see better down the slopes than they can looking to the top)
3. Hunt 10 A.M. 2 P.M. ( Other than shooting a bird right off the roost, this is the best time of day).
______________________
In-House Gunsmith
Gary Brock, In-House Gunsmith
Time to get your gun repaired after gun hunting season. Call now. (608) 370-8013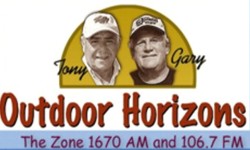 Gary Engberg, one of Southern Wiscon- sin's premiere outdoor enthusiast discusses weekly topics of interest. This week's topic is: "Wisconsin Spring Turkey Hotspots".
Photo courtesy of Gary Engberg
Finally,April has arrived in Wisconsin
and people's thoughts are beginning to focus on fishing rivers for walleyes and to the many hunters who successfully drew a per-mit, to turkey hunting. Much of the north-ern third of the state is still has snow in the woods and most of the lakes still have over a foot of ice, but I have been seeing turkeys displaying and strutting on sunny, southern hillsides while doing some scouting. The turkeys have done so well in my little corner of the state that it not is uncommon to see dozens of turkeys flocked together in a farmers fields as they spread
manure or pick through unplowed fields. The turkeys pick through the manure
looking for any corn or grain that passed through the milk cows.
Photo Courtesy of Gary Engberg
I regularly drive country and rural roads
looking and glassing the fields and woods looking for turkeys. Though, the wild tur-keys are bunched up now, they will soon disperse as the weather moderates and we get closer to the breeding season. But, if you see turkeys in an area there is a good chance that the birds will still be in that area when the season opens April 16th. Early season scouting can greatly help in finding
locations where there are good turkey popu-lations for hunting. If you have drawn
a permit for a specific zone, stop and ask some farmers if you can hunt their property. You would be surprised that if you are courteous and present yourself well, many farmers will still give hunting permission. Plus, most counties in some of the better turkey zones have public hunting grounds and state parks that are open to hunting turkeys in the spring.
Read more by clicking on River Currents.