Wilderness Fish & Game is a full service hunting, fishing and outdoor sports store dedicated to making outdoor adventures more meaningful.
______________________________
The Tradition Continues
Owner Tom Lochner & Luna
_______________________________
We Proudly Sponsor
Find the lastest info on seminars and in-store specials.
---
WFG Staff

L-R Wally Banfi, Wayne Whitemarsh, Larry Wipperfurth
Wilderness Fish and Game staff are avid hunters and fishermen. Not only do you get advice on top name brands in guns, fishing equipment and outdoor sports, you'll get the local insiders view of hunting and fishing in the Wisconsin River Valley and beyond.
___________________________
Useful Web Links
Ace Sauk Prairie
Cayuse Shop
Sauk Prairie Chamber
DNR Licenses
Rivers Edge Cards, Crafts Collectibles
Rivers Edge Floral
Rivers Edge Mall
Roxbury Trap & Skeet Club
Sauk Prairie Trap & Skeet Club
---
Promotions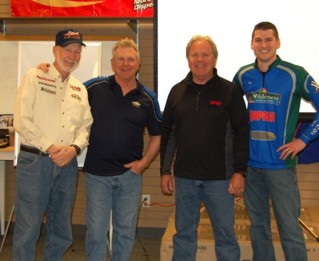 WF& G's 31st Annual Spring Fishing Expo Gary Roach, Joe Bucher, Mark Fisher, Tom Lochner
Thanks to all the great speakers, vendor volun-teers and customers for a hugely successful event. Like us on facebook to see more pictures.
_________________________
Seminars
Art Helin and Tom Lochner
Art Helin brought a solid seminar discussing the Top 10 Turkey Hunting Secrets to Wilderess Fish and Game, Saturday March 29th. A couple of secrets for you: 1. Use Scent Blockers(Helps avoid mistakes with deer). 2. Call from uphill ( Turkeys can see better down the slopes than they can looking to the top)
3. Hunt 10 A.M. 2 P.M. ( Other than shooting a bird right off the roost, this is the best time of day).
______________________
In-House Gunsmith
Gary Brock, In-House Gunsmith
Time to get your gun repaired after gun hunting season. Call now. (608) 370-8013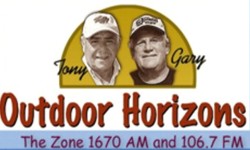 Gary Engberg, one of Southern Wisconsin's premiere outdoor enthusiast discusses weekly topics of interest. This week's topic is: "Early Pike On The Wisconsin River".
Photo Courtesy Gary Engberg
Now is the time of the year when most Wisconsin and upper Midwest anglers start fishing local rivers for walleyes and saugers. The melting snow, the slowly moderating temperatures, the geese heading north, and the arrival of migrating songbirds all add to thoughts of springs arrival and open-water fishing. But, there is another good spring bite that many anglers do not know about or if they know about it, they are not sure where to go.
Photo Courtesy of Gary Engberg
What I am talking about is the early spring pike action. I am going to concentrate on the pike fishing on the Lower Wisconsin River, but this early action can apply to most Wisconsin rivers since pike are relatively common in the Badger State. The Lower Wisconsin River begins at the dam at Sauk Prairie and flows 90 miles till its confluence with the Mississippi river near Prairie du Chien. The Lower Wisconsin River is bas-ically a shallow river in its run to the Missis-sippi River, but depending on the spring rains and the snow melt-down from the North can have many sloughs and back water areas that will attract spawning north-ern pike. Pike like shallow water locations for spawning and especially if these loca-tions have weeds and vegetation. Northern pike like to shallow at a water temperature at or around 39 degrees which is the lowest spawning temperature of any game fish that we have in Wisconsin. Pike need to have vegetation for spawning because their eggs are sticky and need something for their eggs to hold on to for a successful spawn. The recent high water that we have had on the Wisconsin River should help make it a good spawn with the high water flooding the back-waters and sloughs of the river giving the pike the vegetation and water that they need.
Read more by clicking on River Currents.